National Natural Landmarks
Mt. Diablo State Park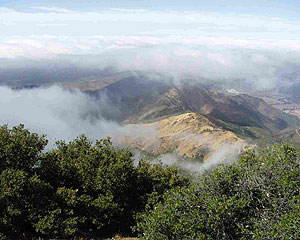 Mt. Diablo State Park
Mt. Diablo State Park contains the best examples of diapiric (igneous intrusion) geologic processes in the South Pacific Border biophysiographic province. It is one of the few places in the region where geologic strata of Jurassic, Cretaceous, and Tertiary age can be seen in an aggregate thickness of 42,000 feet. The site also possesses a great diversity of native plant species and associations.
Location: Contra Costa County, CA ; Contra Costa County, CA
Year designated: 1982
Acres: 6,625
Ownership: State
---
← Back to listing of all states and territories.
Please remember, National Natural Landmarks (NNLs) are not national parks. NNLs are owned by a variety of public and private entities and allowing visitation is at their discretion. Many NNL sites maintain public websites where additional information may be found.