National Natural Landmarks
Mount Veniaminof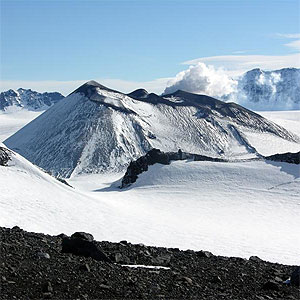 Mount Veniaminof. Photo by Tim Plucinski courtesy the Alaska Volcano Observatory / USGS.
An active volcano of great mass, Mount Veniaminof contains a cupped ice field of 25 square miles, the most extensive crater-glacier in the nation. The caldera originated when the former summit collapsed. It is the only known glacier on the continent with an active volcanic vent in its center. Located within Alaska Peninsula National Wildlife Refuge, Veniaminof is usually shrouded in fog and clouds, and local residents indicate that the entire volcano is visible only one or two days a year.
Location: Alaska, AK
Year designated: 1967
Acres: 659,149
Ownership: Federal
---
← Back to listing of all states and territories.
Please remember, National Natural Landmarks (NNLs) are not national parks. NNLs are owned by a variety of public and private entities and allowing visitation is at their discretion. Many NNL sites maintain public websites where additional information may be found.