National Natural Landmarks
Mount Katahdin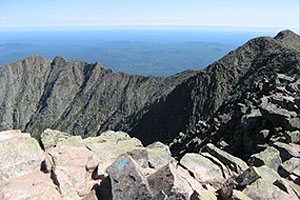 Mount Katahdin
Mount Katahdin's kames, eskers, drumlins, kettleholes, moraines, and erratics provide a complete illustration of glacial geology. Virgin forests, alpine-tundra ecosystems, and unaltered lakes and streams add to the scenic and scientific value.
Location: Piscataquis County, ME ; Piscataquis County, ME
Year designated: 1967
Acres: 193,254
Ownership: State
---
← Back to listing of all states and territories.
Please remember, National Natural Landmarks (NNLs) are not national parks. NNLs are owned by a variety of public and private entities and allowing visitation is at their discretion. Many NNL sites maintain public websites where additional information may be found.