National Natural Landmarks
Morrison-Golden Fossil Areas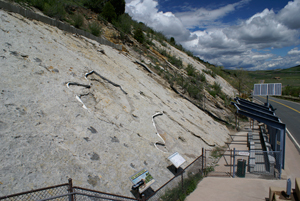 Morrison-Golden Fossil Areas. Photo by S. Hutchison.
The Morrison-Golden Fossil Areas provide a trail through time for the late Jurassic and Cretaceous Periods that is unparalleled in the western US and unique globally. The sites reveal dinosaur and crocodile bones (four species new to science), bird, dinosaur and other reptile tracks (six species new to science), plant fossils and many other fossil and geological features. These visually-spectacular features are enhanced by the world famous history of the Morrison Formation dinosaurs and the equally world-renowned, and scientifically-named, fossil footprints from three of the five tracts. The landmark boundary was expaned in 2011.
Location: Jefferson County, CO
Year designated: 1973
Acres: 80
Ownership: County, Municipal, Private
For additional information see:
---
← Back to listing of all states and territories.
Please remember, National Natural Landmarks (NNLs) are not national parks. NNL status does not indicate public ownership, and many sites are not open for visitation.
Last updated: September 8, 2016