National Natural Landmarks
McLean Game Refuge Natural Areas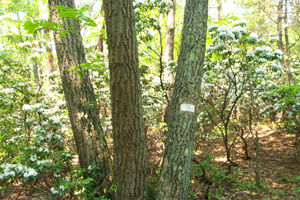 McLean Game Refuge Natural Areas
McLean Game Refuge Natural Areas consists of two separate land tracts, the Western Highlands and the Sand Plains, which encompass an unusually diverse forest flora. Occurring within the oak chestnut region of the eastern deciduous forest, kettlehole bogs and a mile-long esker are evidence of glacial activity.
Location: Hartford County, CT ; Hartford County, CT
Year designated: 1973
Acres: 1,800
Ownership: Private
---
← Back to listing of all states and territories.
Please remember, National Natural Landmarks (NNLs) are not national parks. NNLs are owned by a variety of public and private entities and allowing visitation is at their discretion. Many NNL sites maintain public websites where additional information may be found.