National Natural Landmarks
Matafao Peak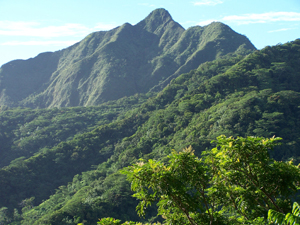 Matafao Peak
Matafao Peak is one of five great masses of volcanic rocks that extruded as molten magma during the major episodes of volcanism that created Tutuila Island. Matafao Peak is the highest peak on the island.
Location: American Samoa, AS ; American Samoa , AS
Year designated: 1972
Acres: 175
Ownership: Communal Lands
---
← Back to listing of all states and territories.
Please remember, National Natural Landmarks (NNLs) are not national parks. NNLs are owned by a variety of public and private entities and allowing visitation is at their discretion. Many NNL sites maintain public websites where additional information may be found.