National Natural Landmarks
Makalawena Marsh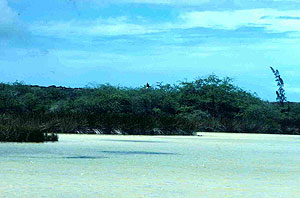 Makalawena Marsh
Makalawena Marsh is one of two remaining ponds on the island of Hawaii that supports a resident population of the endangered, non-migratory Hawaiian stilt, a nesting site for the Hawaiian coot, and the only known breeding site of the black-crowned night heron.
Location: Hawaii Island, HI ; Hawaii County, HI
Year designated: 1972
Acres: 165
Ownership: Private
---
← Back to listing of all states and territories.
Please remember, National Natural Landmarks (NNLs) are not national parks. NNLs are owned by a variety of public and private entities and allowing visitation is at their discretion. Many NNL sites maintain public websites where additional information may be found.