National Natural Landmarks
Malaspina Glacier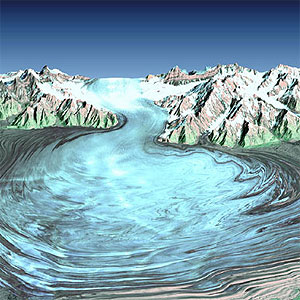 Malaspina Glacier. This perspective view was created by NASA/JPL/NIMA.
Malaspina Glacier, located primarily within Wrangell-St. Elias National Park, is the largest piedmont glacier in North America and one of the largest outside the ice cap regions of the world. It provides classic examples of glacial mechanisms and fluctuations. This large body of ice has been noted by explorers concerned with navigation of the western coast of North America for more than two centuries.
Location: Alaska, AK ; Alaska , AK
Year designated: 1968
Acres: 1,075,409
Ownership: Federal, State, Private
---
← Back to listing of all states and territories.
Please remember, National Natural Landmarks (NNLs) are not national parks. NNLs are owned by a variety of public and private entities and allowing visitation is at their discretion. Many NNL sites maintain public websites where additional information may be found.