National Natural Landmarks
Madison Boulder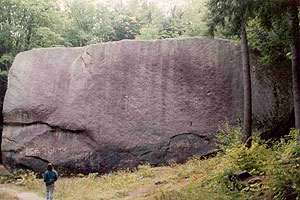 Madison Boulder
Measuring 83 feet long, 37 feet wide and 23 feet high, Madison Boulder, a rectangular granite boulder is the largest known glacial erratic in North America. It illustrates the power of an ice sheet to move large blocks of fractured bedrock over substantial distances.
Location: Carroll County, NH ; Carroll County, NH
Year designated: 1970
Acres: 17
Ownership: State
---
← Back to listing of all states and territories.
Please remember, National Natural Landmarks (NNLs) are not national parks. NNLs are owned by a variety of public and private entities and allowing visitation is at their discretion. Many NNL sites maintain public websites where additional information may be found.