National Natural Landmarks
Lost Creek Scenic Area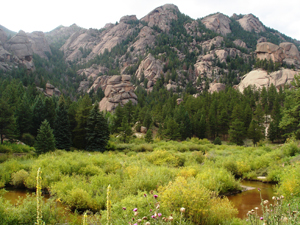 Lost Creek Scenic Area
Lost Creek Scenic Area illustrates unusual rock formations and underground stream channels resulting from weathering along joint planes. Located within Pike National Forest, the site contains spires, pinnacles, narrow ridges and steep, narrow gorges. Lost Creek disappears and reappears at the surface at least nine times, a drainage pattern atypical in granite.
Location: Jefferson County, CO ; Jefferson County, CO ; Park County, CO ; Park County, CO
Year designated: 1966
Acres: 16,798
Ownership: Federal
---
← Back to listing of all states and territories.
Please remember, National Natural Landmarks (NNLs) are not national parks. NNLs are owned by a variety of public and private entities and allowing visitation is at their discretion. Many NNL sites maintain public websites where additional information may be found.