National Natural Landmarks
Lower Cache River Swamp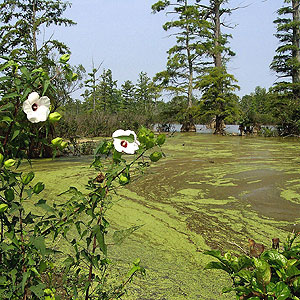 Lower Cache River Swamp. Photo by A.E. and J. Corzine.
Lower Cache River Swamp is an outstanding remnant of the swampy flood plain forest and open swamp that once covered an extensive area at the junction of the Mississippi and Ohio River valleys. The site has many large trees including three trees larger than any on record for the species in the nation.
Location: Johnson County, IL ; Johnson County, IL ; Pulaski County, IL ; Pulaski County, IL
Year designated: 1980
Acres: 1,347
Ownership: State, Private
---
← Back to listing of all states and territories.
Please remember, National Natural Landmarks (NNLs) are not national parks. NNLs are owned by a variety of public and private entities and allowing visitation is at their discretion. Many NNL sites maintain public websites where additional information may be found.