National Natural Landmarks
Little Grand Canyon Area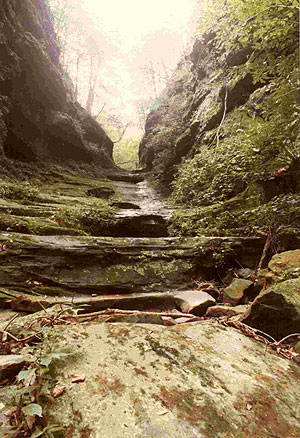 Little Grand Canyon Area
The Little Grand Canyon Area, located within the Shawnee National Forest, is an exceptional example of a large box canyon with vertical overhanging walls. The site contains a great diversity of ecosystems, including sandstone outcrops and overhangs, ravine slope forest, dry site oak-hickory forest, and hill prairies. The ravine is nationally known as a seasonal haven for a great variety of snakes that hibernate there.
Location: Jackson County, IL ; Jackson County, IL
Year designated: 1980
Acres: 1,090
Ownership: Federal
---
← Back to listing of all states and territories.
Please remember, National Natural Landmarks (NNLs) are not national parks. NNLs are owned by a variety of public and private entities and allowing visitation is at their discretion. Many NNL sites maintain public websites where additional information may be found.