National Natural Landmarks
Kickapoo River Natural Area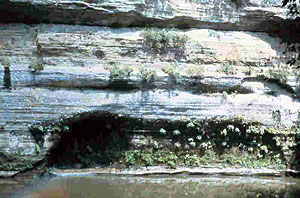 Kickapoo River Natural Area
Kickapoo River Natural Area contains the largest undisturbed concentration of exposed seeping sandstone in Wisconsin. The site is a good example, in the driftless area of southwest Wisconsin, of a river with many entrenched meanders. Additionally, the combination of geologic factors has created a multitude of diverse microhabitats that support many flora species, some of which are endangered.
Location: Vernon County, WI ; Vernon County, WI
Year designated: 1975
Acres: 5,841
Ownership: Federal, State
---
← Back to listing of all states and territories.
Please remember, National Natural Landmarks (NNLs) are not national parks. NNLs are owned by a variety of public and private entities and allowing visitation is at their discretion. Many NNL sites maintain public websites where additional information may be found.