National Natural Landmarks
Kaibab Squirrel Area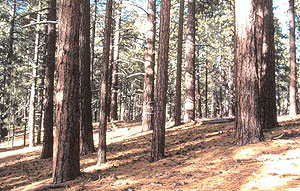 Kaibab Squirrel Area
The Kaibab Squirrel Area, located within portions of the Kaibab National Forest and Grand Canyon National Park, is illustrative of the habitat for the Kaibab squirrel. This rare and restricted species, represents a classic example of evolution through geographic isolation.
Location: Coconino County, AZ ; Coconino County, AZ
Year designated: 1965
Acres: 304,594
Ownership: Federal
---
← Back to listing of all states and territories.
Please remember, National Natural Landmarks (NNLs) are not national parks. NNLs are owned by a variety of public and private entities and allowing visitation is at their discretion. Many NNL sites maintain public websites where additional information may be found.