National Natural Landmarks
Kakagon Sloughs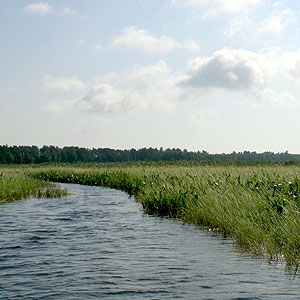 Kakagon Sloughs. Photo by D. Pomeroy.
Kakagon Sloughs is an excellent representative of a true freshwater delta by virtue of its large size, complex mixture of marsh, bog and dune vegetation types, and undisturbed condition. The site is one of the finest marsh complexes on the upper Great Lakes.
Location: Ashland County, WI ; Ashland County, WI
Year designated: 1973
Acres: 2,932
Ownership: Indian Trust (Bad River Indian Tribe), Private
---
← Back to listing of all states and territories.
Please remember, National Natural Landmarks (NNLs) are not national parks. NNLs are owned by a variety of public and private entities and allowing visitation is at their discretion. Many NNL sites maintain public websites where additional information may be found.