National Natural Landmarks
Joshua Tree Natural Area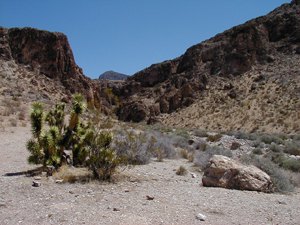 Joshua Tree Natural Area
Joshua Tree Natural Area is the only Joshua tree forest in Utah and the northernmost stand of tree yuccas in the country. The site clearly illustrates the flora and fauna of the Joshua tree association and includes a number of plants and animals that reach the northern edge of their range.
Location: Washington County, UT ; Washington County, UT
Year designated: 1966
Acres: 1,052
Ownership: Federal
---
← Back to listing of all states and territories.
Please remember, National Natural Landmarks (NNLs) are not national parks. NNLs are owned by a variety of public and private entities and allowing visitation is at their discretion. Many NNL sites maintain public websites where additional information may be found.