National Natural Landmarks
Iliamna Volcano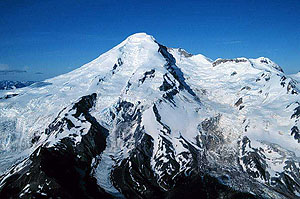 Iliamna Volcano
Iliamna Volcano, located within Lake Clark National Park, is a broad, cone-shaped active stratovolcano that rises to a summit of 10,016 feet. Most of the volcano is covered by snow and ice and at least 10 glaciers radiate from its summit. Its great height and proximity to Cook Inlet make it readily visible from the east side of the inlet and from Anchorage.
Location: Alaska, AK ; Alaska , AK
Year designated: 1976
Acres: 33,694
Ownership: Federal
---
← Back to listing of all states and territories.
Please remember, National Natural Landmarks (NNLs) are not national parks. NNLs are owned by a variety of public and private entities and allowing visitation is at their discretion. Many NNL sites maintain public websites where additional information may be found.