National Natural Landmarks
Horseshoe Lake Nature Preserve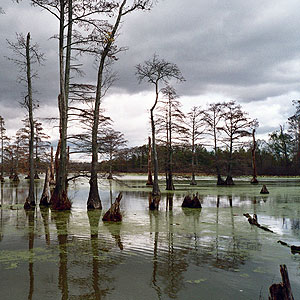 Horseshoe Lake Nature Preserve. Photo by J. Marburger.
Horseshoe Lake Nature Preserve contains diverse aquatic and terrestrial flora and fauna and mature stands of bald cypress. The site is on the migration corridor of many waterfowl, as well as being an overwintering site for thousands of Canada geese.
Location: Alexander County, IL ; Alexander County, IL
Year designated: 1972
Acres: 352
Ownership: State
---
← Back to listing of all states and territories.
Please remember, National Natural Landmarks (NNLs) are not national parks. NNLs are owned by a variety of public and private entities and allowing visitation is at their discretion. Many NNL sites maintain public websites where additional information may be found.