National Natural Landmarks
Heggie's Rock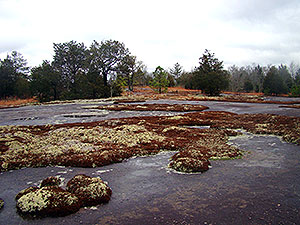 Heggie's Rock
Heggie's Rock is the best example in eastern North America of the remarkable endemic flora restricted to granite outcrops. The site is the least disturbed of all the major outcrops and illustrates the best community zonation. Twelve of the 18 endemic species, subspecies, and varieties associated with well-exposed granitic flatrocks occur at this site.
Location: Columbia County, GA ; Columbia County, GA
Year designated: 1980
Acres: 504
Ownership: County, Private
---
← Back to listing of all states and territories.
Please remember, National Natural Landmarks (NNLs) are not national parks. NNLs are owned by a variety of public and private entities and allowing visitation is at their discretion. Many NNL sites maintain public websites where additional information may be found.