National Natural Landmarks
Gulf Hagas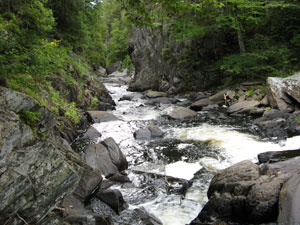 Gulf Hagas
Gulf Hagas is a steep-walled, youthful gorge, cut by a wild river through folded and tilted slates and siltstones. The site illustrates the successive processes of sedimentation, rock formation, and erosion. Waterfalls, cliffs, and growth of spruce-fir forest on the gorge walls give the site unusual scenic beauty.
Location: Piscataquis County, ME ; Piscataquis County, ME
Year designated: 1968
Acres: 420
Ownership: Federal
---
← Back to listing of all states and territories.
Please remember, National Natural Landmarks (NNLs) are not national parks. NNLs are owned by a variety of public and private entities and allowing visitation is at their discretion. Many NNL sites maintain public websites where additional information may be found.