National Natural Landmarks
Great Rift System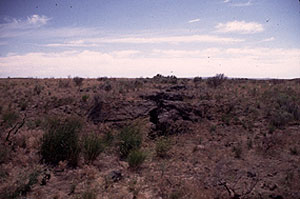 Great Rift System
The Great Rift System represents a tensional fracture in the Earth's crust that may extend to the crust-mantle interface. It also illustrates primary vegetation succession on very young lava flows. The Great Rift System is unique in North America and has few counterparts in the world.
Location: Blaine County, ID ; Minidoka County, ID ; Power County, ID
Year designated: 1968
Acres: 171,999
Ownership: Federal
---
← Back to listing of all states and territories.
Please remember, National Natural Landmarks (NNLs) are not national parks. NNLs are owned by a variety of public and private entities and allowing visitation is at their discretion. Many NNL sites maintain public websites where additional information may be found.