National Natural Landmarks
Glacial Lake Missoula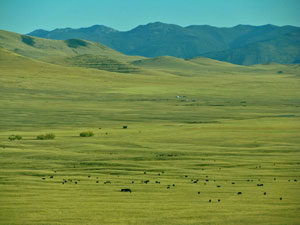 Glacial Lake Missoula. Photo by S. Corrick.
Glacial Lake Missoula was the largest of several lakes impounded by the Cordilleran Ice Sheet during the Quaternary Period. The site contains the best examples of giant flood ripples in the North American continent. Ripples appear as ridges 15 to 20 feet high, 100 to 250 feet wide, and from 300 feet to one-half mile long.
Location: Sanders County, MT ; Sanders County, MT
Year designated: 1966
Acres: 635
Ownership: Private
---
← Back to listing of all states and territories.
Please remember, National Natural Landmarks (NNLs) are not national parks. NNLs are owned by a variety of public and private entities and allowing visitation is at their discretion. Many NNL sites maintain public websites where additional information may be found.