National Natural Landmarks
Ghost Ranch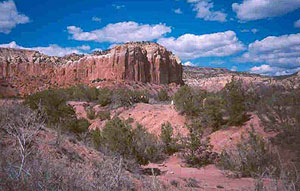 Ghost Ranch
Ghost Ranch has yielded an abundance of well-preserved Coelophysis skeletons within exposures of the Upper Triassic Chinle Formation. This reptile, one of the oldest and most primitive carnivorous dinosaurs, was known only from scanty fossil evidence until the 1947 discovery and excavation at this site. This discovery is considered by some paleontologists as one of the most important single fossil finds in the American Triassic.
Location: Rio Arriba County, NM
Year designated: 1976
Acres: 54
Ownership: Private
For additional information see:
---
← Back to listing of all states and territories.
Please remember, National Natural Landmarks (NNLs) are not national parks. NNL status does not indicate public ownership, and many sites are not open for visitation.
Last updated: September 8, 2016