National Natural Landmarks
Garden of the Gods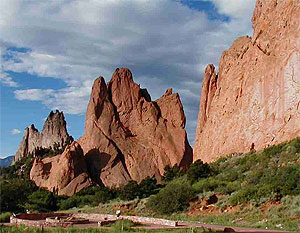 Garden of the Gods
Garden of the Gods is an outstanding illustration of the lithologic character of sedimentary rocks, and of the vertical forces that produced the front range of the Rocky Mountains. Located within Garden of the Gods Park, the site contains the uncommon honey ant, and is one of the best sites in Colorado for observing white-throated swifts, swallows, and canyon wrens.
Location: El Paso County, CO ; El Paso County, CO
Year designated: 1971
Acres: 862
Ownership: Municipal
---
← Back to listing of all states and territories.
Please remember, National Natural Landmarks (NNLs) are not national parks. NNLs are owned by a variety of public and private entities and allowing visitation is at their discretion. Many NNL sites maintain public websites where additional information may be found.