National Natural Landmarks
Floating Island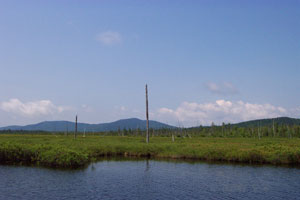 Floating Island
Floating Island, a floating heath bog, is surrounded by mixed bog swamp forest and an intricate complex of meandering river, oxbows and ponds. It is considered one of the finest wildlife areas in northern New England, providing critical habitat for species including osprey and bald eagle.
Location: Coos County, NH ; Coos County, NH
Year designated: 1972
Acres: 750
Ownership: Federal
---
← Back to listing of all states and territories.
Please remember, National Natural Landmarks (NNLs) are not national parks. NNLs are owned by a variety of public and private entities and allowing visitation is at their discretion. Many NNL sites maintain public websites where additional information may be found.