National Natural Landmarks
Ebenezer Creek Swamp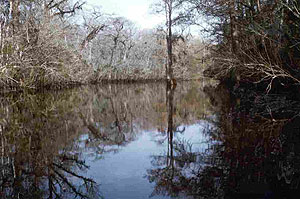 Ebenezer Creek Swamp
Ebenezer Creek Swamp is the best remaining cypress-gum swamp forest in the Savannah River basin. It illustrates the relationship and interactions between river and creek; providing spawning grounds for the anadromous striped bass and habitat for the American alligator.
Location: Effingham County, GA ; Effingham County, GA
Year designated: 1976
Acres: 1,305
Ownership: Private
---
← Back to listing of all states and territories.
Please remember, National Natural Landmarks (NNLs) are not national parks. NNLs are owned by a variety of public and private entities and allowing visitation is at their discretion. Many NNL sites maintain public websites where additional information may be found.