National Natural Landmarks
Dixon Vernal Pools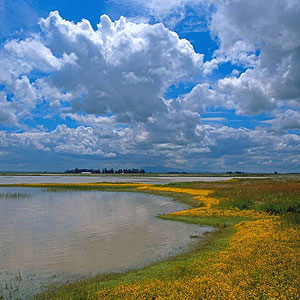 Dixon Vernal Pools. Photo by B. Turner.
Dixon Vernal Pools represents the best example of the valley needlegrass grassland in the Great Central valley of the South Pacific Border biophysiographic province. There are only three valley needlegrass grassland sites remaining today. The site contains extensive stands of perennial needlegrass in a mosaic with claypan vernal pools, another critically rare natural community. The rolling hummocky topography results in a complex patchwork of grasses and native wildflowers.
Location: Solano County, CA ; Solano County, CA
Year designated: 1987
Acres: 11,140
Ownership: Private
---
← Back to listing of all states and territories.
Please remember, National Natural Landmarks (NNLs) are not national parks. NNLs are owned by a variety of public and private entities and allowing visitation is at their discretion. Many NNL sites maintain public websites where additional information may be found.