National Natural Landmarks
Dinosaur Valley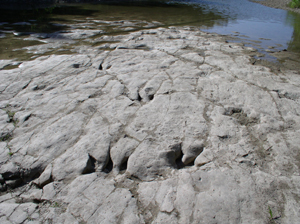 Dinosaur Valley
Dinosaur Valley, located within Dinosaur Valley State Park, contains the only known source of distinct and full-grown sauropod footprints. The trackways are among the first clearly defined for sauropods in North America. These tracks provided evidence relating to locomotion and foot structure for these large dinosaurs.
Location: Somervell County, TX ; Somervell County, TX
Year designated: 1968
Acres: 1,523
Ownership: State
---
← Back to listing of all states and territories.
Please remember, National Natural Landmarks (NNLs) are not national parks. NNLs are owned by a variety of public and private entities and allowing visitation is at their discretion. Many NNL sites maintain public websites where additional information may be found.