National Natural Landmarks
Clarence Rhode National Wildlife Range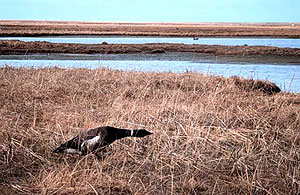 Clarence Rhode National Wildlife Range
Located within the Yukon Delta National Wildlife Refuge, the Clarence Rhode National Wildlife Range is an excellent example of coastal and upland tundra habitat; consisting of more than 50,000 lakes and ponds, meandering streams, extensive tide flats and low shrub and sedge tundra. The site provides nesting grounds for most of the world's black brant, cackling and emperor geese, and numerous other waterfowl, shorebirds, and sandhill cranes.
Location: Alaska, AK ; Alaska , AK
Year designated: 1968
Acres: 1,794,293
Ownership: Federal, State, Private
---
← Back to listing of all states and territories.
Please remember, National Natural Landmarks (NNLs) are not national parks. NNLs are owned by a variety of public and private entities and allowing visitation is at their discretion. Many NNL sites maintain public websites where additional information may be found.