National Natural Landmarks
Cleveland-Lloyd Dinosaur Quarry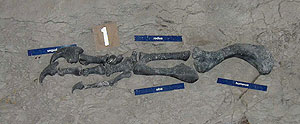 Cleveland-Lloyd Dinosaur Quarry
The Cleveland-Lloyd Dinosaur Quarry has provided more than 10,000 fossil bones from at least seven different genera of the Jurassic Period, representing more than 60 individual animals. The unique predator trap is unduplicated in any other classic dinosaur beds known anywhere in the world.
Location: Emery County, UT ; Emery County, UT
Year designated: 1965
Acres: 721
Ownership: Federal
---
← Back to listing of all states and territories.
Please remember, National Natural Landmarks (NNLs) are not national parks. NNLs are owned by a variety of public and private entities and allowing visitation is at their discretion. Many NNL sites maintain public websites where additional information may be found.