National Natural Landmarks
Cassia Silent City of Rocks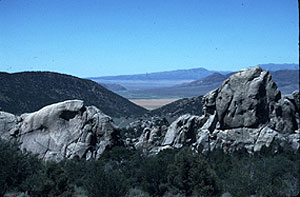 Cassia Silent City of Rocks
Cassia Silent City of Rocks contains monolithic landforms created by exfoliation processes on exposed massive granite plutons. It is the best example of bornhardts (weather-resistant rock left standing after erosion of surrounding rock) in the country.
Location: Cassia County, ID
Year designated: 1974
Acres: 20,214
Ownership: Federal, State, Private
---
← Back to listing of all states and territories.
Please remember, National Natural Landmarks (NNLs) are not national parks. NNLs are owned by a variety of public and private entities and allowing visitation is at their discretion. Many NNL sites maintain public websites where additional information may be found.