National Natural Landmarks
Canelo Hills Cienega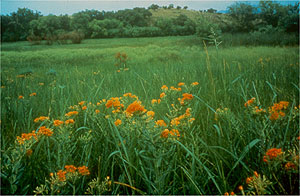 Canelo Hills Cienega
Canelo Hills Cienega contains the least disturbed extensive southwestern desert wet grasslands (cienega) along the United States-Mexican border. The site supports one of two known populations of Canelo lady's tresses, and is one of several areas that support the native, rare Gila chub and Gila sucker.
Location: Santa Cruz County, AZ ; Santa Cruz County, AZ
Year designated: 1974
Acres: 98
Ownership: Private
---
← Back to listing of all states and territories.
Please remember, National Natural Landmarks (NNLs) are not national parks. NNLs are owned by a variety of public and private entities and allowing visitation is at their discretion. Many NNL sites maintain public websites where additional information may be found.