National Natural Landmarks
Cathedral Caverns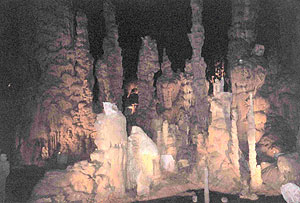 Cathedral Caverns
Located within Cathedral Caverns State Park, Cathedral Caverns consists of a series of large chambers containing flowing underground streams and a variety of decorative speleothems, such as stalagmites, totem poles, dripstone slopes and walls. The huge entrance to the cave is 125 feet wide by 50 feet high and is spanned by a thin, almost flat arch.
Location: Marshall County, AL ; Marshall County, AL
Year designated: 1972
Acres: 161
Ownership: State
---
← Back to listing of all states and territories.
Please remember, National Natural Landmarks (NNLs) are not national parks. NNLs are owned by a variety of public and private entities and allowing visitation is at their discretion. Many NNL sites maintain public websites where additional information may be found.