National Natural Landmarks
Boulder Park and McNeil Canyon Haystack Rocks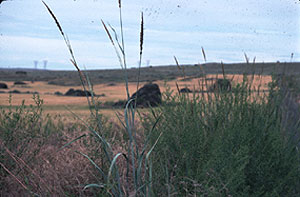 Boulder Park and McNeil Canyon Haystack Rocks
Boulder Park and McNeil Canyon Haystack Rocks is composed of two adjacent sites that together contain the greatest concentration and most illustrative examples of glacial erratics (large glacier-transported boulders) in the Columbia Plateau biophysiographic province. As the visible products of dynamic glacier processes, they provide important evidence for the direction of movement and location of glacier ice on the Columbia Plateau during the last glaciation. Due to the lack of vegetation in this area, these sites are also probably the most illustrative examples of glacial erratics in the United States.
Location: Douglas County, WA ; Douglas County, WA
Year designated: 1986
Acres: 3,726
Ownership: State, Private
---
← Back to listing of all states and territories.
Please remember, National Natural Landmarks (NNLs) are not national parks. NNLs are owned by a variety of public and private entities and allowing visitation is at their discretion. Many NNL sites maintain public websites where additional information may be found.