National Natural Landmarks
Bogoslof Island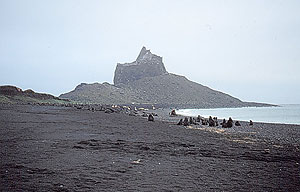 Bogoslof Island
Located within Alaska Maritime National Wildlife Refuge, Bogoslof Island, a product of several volcanic eruptions, is recognized by geologists to be a prime example of volcanism at work. The most recent eruption in 1992 added a new dome to the east end of the island. The island supports an important rookery and haulout for endangered Steller sea lions, and nesting grounds for over 50,000 murres, kittiwakes and other sea birds.
Location: Alaska, AK ; Alaska , AK
Year designated: 1967
Acres: 170
Ownership: Federal
---
← Back to listing of all states and territories.
Please remember, National Natural Landmarks (NNLs) are not national parks. NNLs are owned by a variety of public and private entities and allowing visitation is at their discretion. Many NNL sites maintain public websites where additional information may be found.