National Natural Landmarks
Big Walnut Creek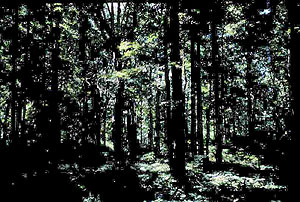 Big Walnut Creek
Big Walnut Creek is a branch of the Eel River formed as a result of glacial melt and postglacial water erosion. The site contains one of the few stands in Indiana where beech, sugar maple, and tulip poplar grow on alluvial Genesee soil and includes relict species of a postglacial forest that occupied the area 5,000 to 6,000 years ago.
Location: Putnam County, IN ; Putnam County, IN
Year designated: 1968
Acres: 502
Ownership: State, Private
---
← Back to listing of all states and territories.
Please remember, National Natural Landmarks (NNLs) are not national parks. NNLs are owned by a variety of public and private entities and allowing visitation is at their discretion. Many NNL sites maintain public websites where additional information may be found.