National Natural Landmarks
Big Spring Creek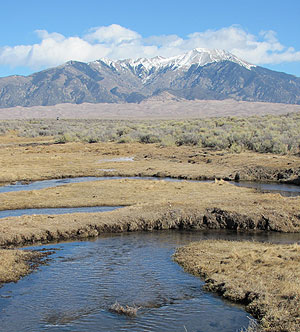 Big Spring Creek
Big Spring Creek is unique in the Southern Rocky Mountains biophysiographic province as a spring-fed, gaining stream formed by groundwater discharging from an unconfined aquifer. Located within Great Sand Dunes National Park and Preserve, the stream flows out over an eolian sand sheet, forming emergent wetlands that support a diversity of rare species and plant communities in an otherwise arid landscape. The meandering creek provides an excellent example of natural geologic and hydrologic patterns.
Location: Saguache County, CO ; Saguache County, CO
Year designated: 2012
Acres: 440
Ownership: Federal
---
← Back to listing of all states and territories.
Please remember, National Natural Landmarks (NNLs) are not national parks. NNLs are owned by a variety of public and private entities and allowing visitation is at their discretion. Many NNL sites maintain public websites where additional information may be found.