National Natural Landmarks
Big Oak Tree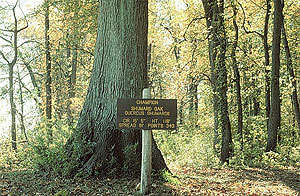 Big Oak Tree
Located within Big Oak Tree State Park, the Big Oak Tree site is the only sizable known tract of essentially virgin wet-mesic bottomland hardwood forest remaining in the northern Mississippi Alluvial Plain section of the Gulf Coastal Plain biophysiographic province.
Location: Mississippi County, MO
Year designated: 1986
Acres: 139
Ownership: State
---
← Back to listing of all states and territories.
Please remember, National Natural Landmarks (NNLs) are not national parks. NNLs are owned by a variety of public and private entities and allowing visitation is at their discretion. Many NNL sites maintain public websites where additional information may be found.