National Natural Landmarks
Bitter Lake Group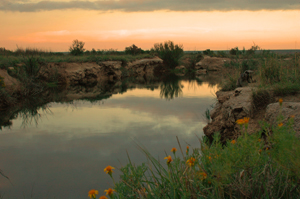 Bitter Lake Group. Photo by S. Martin.
Located within the Bitter Lake National Wildlife Refuge, the Bitter Lake Group contains more than 30 natural sinkhole depressions formed by solution of gypsum-bearing rocks. The highly saline artesian lakes provide habitat for the only inland occurrence of a marine alga and two rare fish species. The site offers one of the best examples of undisturbed shrub-grassland and the process of succession and restoration to natural conditions following a disturbance.
Location: Chaves County, NM ; Chaves County, NM
Year designated: 1980
Acres: 10,804
Ownership: Federal
---
← Back to listing of all states and territories.
Please remember, National Natural Landmarks (NNLs) are not national parks. NNLs are owned by a variety of public and private entities and allowing visitation is at their discretion. Many NNL sites maintain public websites where additional information may be found.