National Natural Landmarks
Bartholomew's Cobble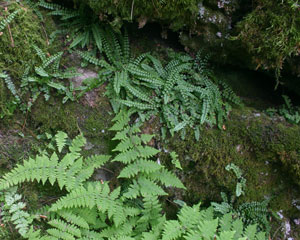 Bartholomew's Cobble. Photo by J. Sotek.
Considered the greatest natural concentration of ferns in the country, Bartholomew's Cobble supports 43 species, including several rarities restricted to limestone. Within this small area of diverse habitats, occurs a remarkable and well documented assemblage of plants and animals.
Location: Litchfield County, CT ; Litchfield County, CT ; Berkshire County, MA ; Berkshire County, MA
Year designated: 1971
Acres: 167
Ownership: Private
---
← Back to listing of all states and territories.
Please remember, National Natural Landmarks (NNLs) are not national parks. NNLs are owned by a variety of public and private entities and allowing visitation is at their discretion. Many NNL sites maintain public websites where additional information may be found.