National Natural Landmarks
Ashfall Fossil Beds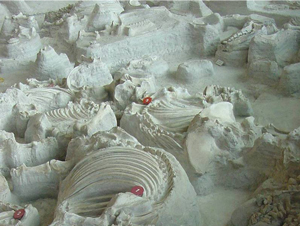 Ashfall Fossil Beds
Ashfall Fossil Beds, located within Ashfall Fossil Beds State Historical Park, is one of the only locations where large numbers of fossil mammals have been found as whole, three-dimensionally preserved skeletons. The thick bed of volcanic ash at the site contains hundreds of extraordinarily complete skeletons of extinct rhinos, camels, three-toed horses and other vertebrates still lying in their death poses.
Location: Antelope County, NE ; Antelope County, NE
Year designated: 2006
Acres: 360
Ownership: State
---
← Back to listing of all states and territories.
Please remember, National Natural Landmarks (NNLs) are not national parks. NNLs are owned by a variety of public and private entities and allowing visitation is at their discretion. Many NNL sites maintain public websites where additional information may be found.