National Natural Landmarks
Appleton Bog Atlantic White Cedar Stand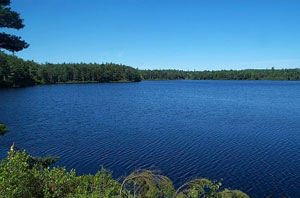 Appleton Bog Atlantic White Cedar Stand
The Appleton Bog Atlantic White Cedar Stand is a large peatland with continuous forest cover and well developed hummock-and-hollow topography. The site supports large stands of virgin Atlantic white cedar, the most extensive growth of this species at the northeastern limit of its range.
Location: Knox County, ME ; Knox County, ME
Year designated: 1984
Acres: 630
Ownership: Private
---
← Back to listing of all states and territories.
Please remember, National Natural Landmarks (NNLs) are not national parks. NNLs are owned by a variety of public and private entities and allowing visitation is at their discretion. Many NNL sites maintain public websites where additional information may be found.