National Natural Landmarks
Aniakchak Crater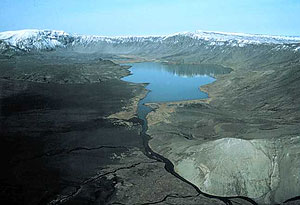 Aniakchak Crater
Aniakchak Crater, located within Aniakchak National Monument, is one of the largest explosive craters in the world, averaging 6 miles wide and 2000 feet deep. The crater contains Surprise Lake, a warm springs fed lake that provides spawning grounds for a unique subspecies of salmon. The lake is the source of the Aniakchak River, which flows through a breach in the crater rim to the Pacific Ocean. The last eruption of this volcano was in 1931.
Location: Alaska, AK ; Alaska , AK
Year designated: 1967
Acres: 20,727
Ownership: Federal
---
← Back to listing of all states and territories.
Please remember, National Natural Landmarks (NNLs) are not national parks. NNLs are owned by a variety of public and private entities and allowing visitation is at their discretion. Many NNL sites maintain public websites where additional information may be found.