National Natural Landmarks
Anza-Borrego Desert State Park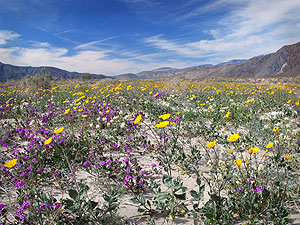 Anza-Borrego Desert State Park. Photo by J. Kramer.
Anza-Borrego Desert State Park is the largest desert state park in the nation. The site contains some of the best examples of the various biotic communities and geological phenomena of the Colorado Desert region.
Location: Imperial County, CA ; Riverside County, CA ; San Diego County, CA
Year designated: 1974
Acres: 622,810
Ownership: State, Municipal, Private
---
← Back to listing of all states and territories.
Please remember, National Natural Landmarks (NNLs) are not national parks. NNLs are owned by a variety of public and private entities and allowing visitation is at their discretion. Many NNL sites maintain public websites where additional information may be found.