National Natural Landmarks
Albany Pine Bush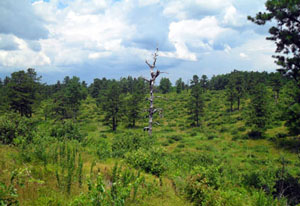 Albany Pine Bush. Photo by M. Brickle
Albany Pine Bush is one of the best examples of inland periglacial sand dunes formed by eolian processes in the Northeastern United States. The globally rare pitch pine-scrub oak barrens that occupy the upland dunes and diverse wetlands support the federally listed endangered Karner blue butterfly among numerous species of special concern.
Location: Albany County, NY ; Albany County, NY
Year designated: 2014
Acres: 3,200
Ownership: State, County, Municipal, Private
---
← Back to listing of all states and territories.
Please remember, National Natural Landmarks (NNLs) are not national parks. NNLs are owned by a variety of public and private entities and allowing visitation is at their discretion. Many NNL sites maintain public websites where additional information may be found.