Maps
Map of July 4th Event Areas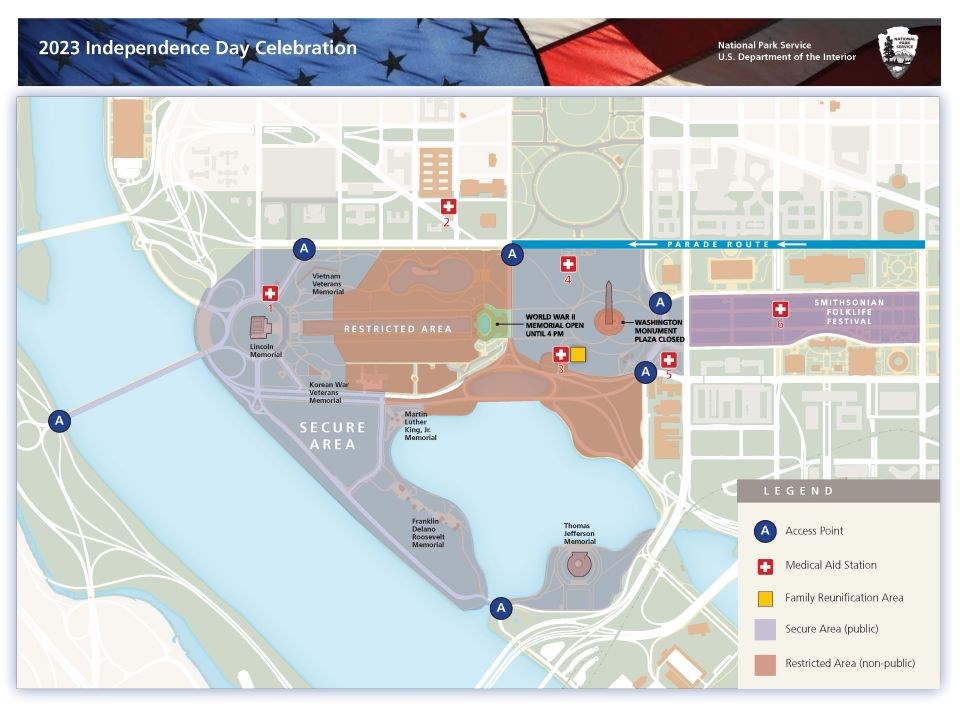 Access Points
The access points for viewing the fireworks display are at the following locations:
West side of Arlington Memorial Bridge
Constitution Avenue NW between 23rd Street NW and Henry Bacon Drive NW
17th Street NW at Constitution Ave NW
15th Street NW at Madison Drive NW
15th Street SW at Jefferson Drive SW
East Basin Drive just south of the Jefferson Memorial (visitors will not be able to access the National Mall from here)
Medical Aid Stations
Lincoln Memorial Circle, on the east side of Henry Bacon Drive NW, southwest of the Vietnam Veterans Memorial
Washington Monument Grounds, along Constitution Avenue NW, north of the Washington Monument
Washington Monument Grounds, west of the ranger station along Independence Avenue SW
15th Street SW at Jefferson Drive SW
The Mall at 12th Street walkway (between National Museum of American History and National Museum of Natural History)
Safe Havens
In the event of inclement weather, the following locations are designated as safe havens:
Andrew W. Mellon Auditorium – 1301 Constitution Avenue NW
Department of Education Headquarters Building – 400 Maryland Avenue SW
Department of the Interior Headquarters Building – 1849 C Street NW
General Services Administration Headquarters Building – 1800 F Street NW
Herbert C. Hoover Federal Building (Department of Commerce) – 1401 Constitution Avenue NW
Internal Revenue Service Headquarters Building – 1111 Constitution Avenue NW
Jamie L. Whitten Federal Building (Department of Agriculture) – 1400 Jefferson Drive SW
National Museum of African American History and Culture – 1400 Madison Drive NW
National Museum of American History – 1300 block Madison Drive NW
Ronald Reagan Building – 1301 Pennsylvania Avenue NW
Wilbur J. Cohen Federal Building – 330 Independence Avenue SW
Family Reunification Area
A family reunification area is located on the southwest side of the Washington Monument grounds. Any missing persons found by event officials will be brought to this tent to be reunited with family.
Map of July 4th Road Closures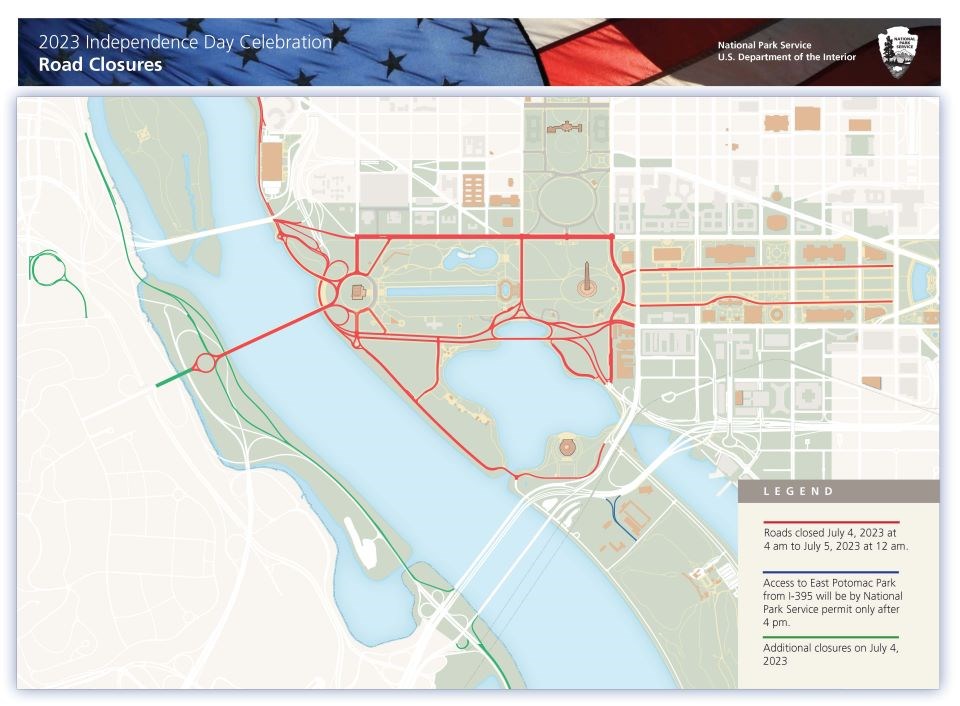 .
Banner: Text "2022 Independence Day Celebration, U.S. Department of the Interior, National Park Service" on a US flag background
Legend: Appears in the bottom right corner of the map
Symbol of the letter "A" in a blue circle with text "Access Point"
Symbol of a white cross in a red square with text "Medical Aid Station"
Symbol of a yellow square with text "Family Reunification Area"
Map: Section of National Mall and Memorial Parks in Washington DC indicating event boundaries and location of security and services.
The Secure Area includes portions of the National Mall from the Potomac River shoreline east to 17th Street, and Constitution Avenue south to East Basin Drive. It includes the Lincoln Memorial, Franklin Delano Roosevelt Memorial, Korean War Veterans Memorial, Martin Luther King, Jr. Memorial, Thomas Jefferson Memorial, Vietnam Veterans Memorial and the World War II Memorial grounds.
The fireworks Safety Zone is located along the Lincoln Memorial Reflecting Po. These areas and Arlington Memorial Bridge are closed to the public.

Access points locations on the map:
West side of Arlington Memorial Bridge
Constitution Avenue NW between 23rd Street NW and Henry Bacon Drive NW
17th Street SW and Independence Avenue SW
East Basin Drive just south of the Jefferson Memorial (visitors will not be able to access the National Mall from here)
Medical aid station locations on the map:
Lincoln Memorial Circle, on the east side of Henry Bacon Drive NW, southwest of the Vietnam Veterans Memorial
Washington Monument Grounds, along Constitution Avenue NW, north of the Washington Monument
Washington Monument Grounds, north of the ranger station along Independence Avenue SW
15th Street SW at Jefferson Drive SW
Near the Smithsonian/National Mall Metro station (Mall entrance)
Family Reunification Area location on the map
Washington Monument Grounds at Survey Lodge, along Independence Avenue
Restricted areas on the map
West Potomac Park from John Ericcson Memorial to Inlet Bridge
Along the Tidal Bason south of the Washington Monument from the John Paul Johnes Memorial to 15th Street SW (the Martin Luther King, Jr. Memorial and World War II Memorial will close 4pm on July 4th)
GETTING AROUND TO DC AREA PARKS
Last updated: July 3, 2023