Maps
Interactive Map of July 4 Events Areas

Stationary Map of July 4th Events Areas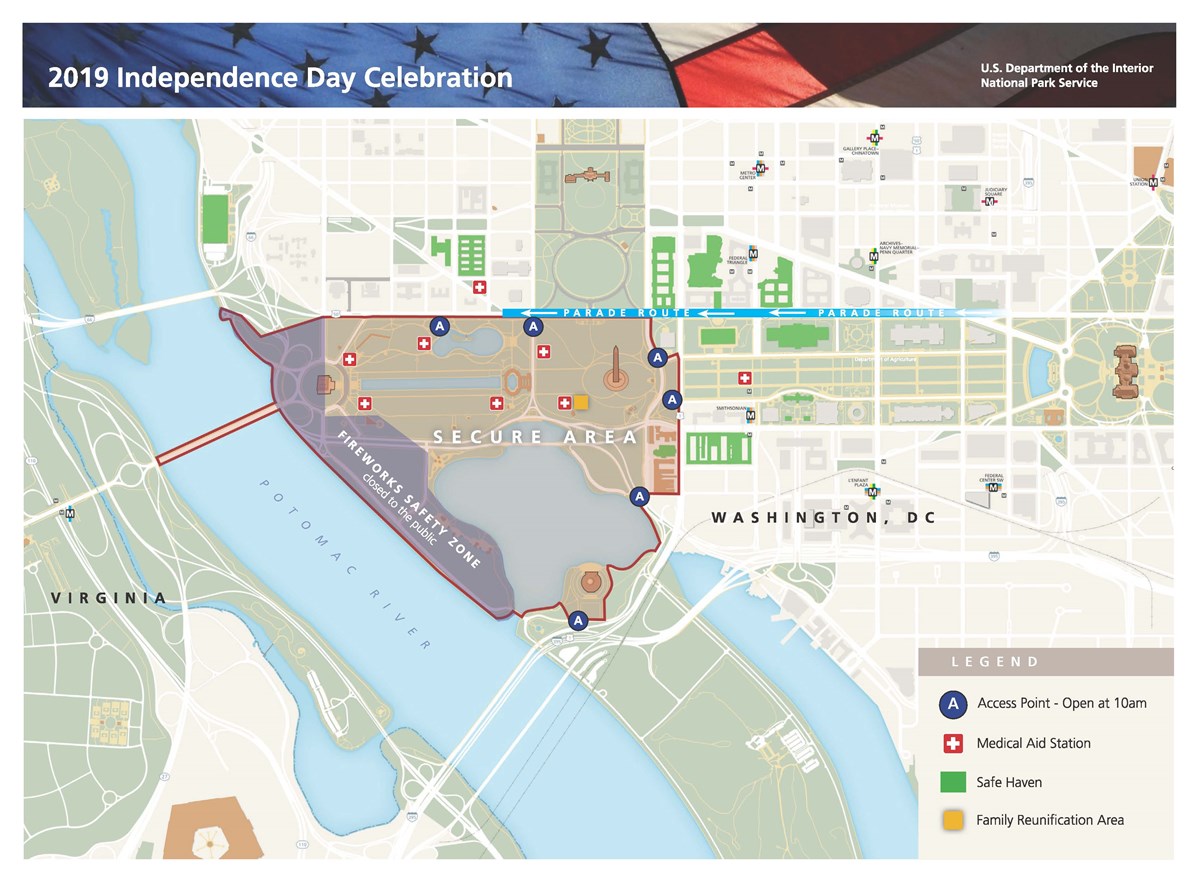 Banner: Text "2019 Independence Day Celebration U.S. Department of the Interior National Park Service" on a US flag background
Legend: Appears in the bottom right corner of the map
Symbol of the letter "A" in a blue circle with text "Access Point - Open at 10 am"
Symbol of a white cross in a red square with text "Medical Aid Station"
Symbol of a green square with text "Safe Haven"
Symbol of a yellow square with text "Family Reunification Area"
Map: Section of the National Mall & Memorial Parks in Washington DC indicating event boundaries and location of security and services.
The Secure Area includes portions of the National Mall from the Potomac River shoreline east to 14th Street and Constitution Avenue south to East Basin Drive. It includes the Lincoln Memorial, Thomas Jefferson Memorial, and Washington Monument grounds.
The Fireworks Safety Zone is located along the Potomac River in West Potomac Park. This area and Arlington Memorial Bridge are closed to the public.
The Independence Day Parade route is on Constitution Avenue from 3rd Street to 18th Street.
Access Points locations on the map:
South side of Memorial Bridge
Constitution Avenue NW between 23rd Street NW and Henry Bacon Drive NW
Constitution Avenue NW and 17th Street NW (opens at 2 p.m.)
West side of 14th Street NW at Madison Drive NW (opens at 2 p.m.)
West side of 14th Street SW at Jefferson Drive SW
Maine Avenue SW and Raoul Wallenberg Place SW (15th Street SW)
East Basin Drive just south of the Jefferson Memorial (visitors will not be able to access the National Mall from here)
East Basin Drive at Inlet Bridge SW
Medical Aid Stations locations on the map:
TENT 1: Lincoln Memorial Circle, on the west side of Daniel French Drive, across from the Korean War Veterans Memorial
TENT 2: Washington Monument Grounds, along 17th Street, east of the World War II Memorial
TENT 3: Washington Monument Grounds at Survey Lodge, along Independence Avenue
TENT 4: Washington Monument Grounds, along 15th Street, near Madison Drive
TENT 5: Near the Smithsonian Metro Station, Mall Entrance
TENT 6: Between 3rd and 4th Streets on the north side of the National Mall
Safe Haven locations on the map
Department of Agriculture building (1400 Independence Avenue SW)
Department of the Interior building (1849 C Street NW)
Herbert C. Hoover Building (1401 Constitution Avenue NW)
Internal Revenue Service building (1111 Constitution Avenue NW)
John F. Kennedy Center for the Performing Arts (2700 F Street NW)
Office of Personnel Management building (1900 E Street NW)
Ronald Reagan Building and International Trade Center (1300 Pennsylvania Avenue NW)
Smithsonian's Arthur M. Sackler Gallery (1050 Independence Avenue SW)
Smithsonian Castle (1000 Jefferson Drive SW)
Smithsonian National Museum of American History (1300 Constitution Avenue NW)
Smithsonian National Museum of Natural History (10th Street & Constitution Avenue NW)
Smithsonian National Museum of African Art (950 Independence Avenue SW)
U.S. Holocaust Memorial Museum (100 Raoul Wallenberg Sl. SW)
Family Reunification Area locations on the map
Washington Monument grounds
Last updated: July 8, 2019