Saddle Rock Ranch Pictograph Site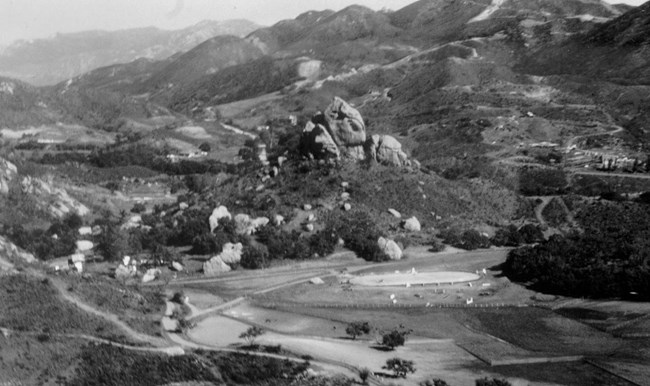 The Saddle Rock Ranch Pictograph Site, also known as the "Cave of the Four Horsemen," is a Native American rock art and settlement site located in the Santa Monica Mountains of California. The site is located at the base of two impressive natural landmarks, Mitten Rock and Saddle Rock, which rises three-quarters of a mile to the west. These peaks served as landmarks for prehistoric travelers and early historic explorers. In addition, peaks such as these were frequently sacred places among the Chumash, the people who occupied the area at the time of European exploration and settlement.
The site consists of a rock-shelter (a shallow cave or rock overhang occupied by humans) and a midden (an accumulation of debris and domestic waste accompanying a human habitation site). Native Americans lived in this area as early as 5000 BC, and continued occupying the area through historic times. Nearly 100 painted figures and abstract elements (called pictographs) were probably added to the rockshelter after 500 AD.
The Saddle Rock site is considered to be of national significance for several reasons. The extensive and well-preserved pictographs are characteristic of the final development of the distinctive Chumash style. They include the only depictions in Chumash art of human figures in profile and of mounted horsemen.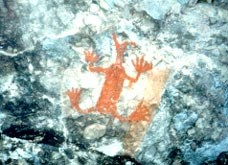 Archaeological test excavations at this site in the early 1980s recovered a greater variety and amount of material than is usually found at inland rock-shelter sites. Excavations also revealed an exceptionally long occupational sequence that extended well into the historic period. The Saddle Rock site will probably continue to yield information of major scientific importance about Chumash life, including data on settlement patterns, trade, religion, cosmology, and the possible use of the site for astronomical observation.
The Saddle Rock Ranch Pictograph Site is also significant for its association with the history of Spanish exploration of California and the establishment of relations between the Spanish and the native people. The horsemen portrayed in the pictographs are considered to be a representation of Gaspar de Portola's exploring party, which journeyed through the area in 1769–70. The site's general association with patterns of Spanish exploration and its specific association with de Portola add to its national significance.

The Saddle Rock Ranch Pictograph Site was listed in the National Register of Historic Places on February 12, 1982. The site was determined eligible to be designated a National Historic Landmark on March 16, 1990, by the Secretary of the Interior.
Last updated: July 24, 2018