Nashville Union Station and Trainshed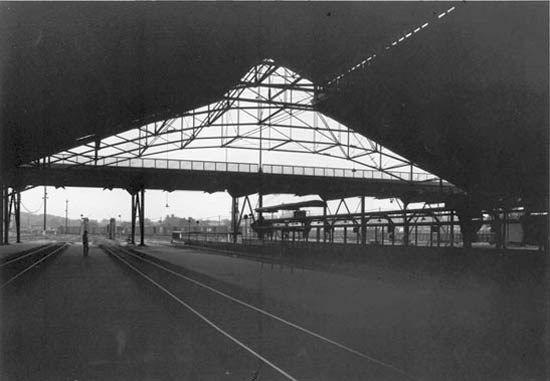 Nashville Union Station and Trainshed
Nashville, TN
Designated an NHL: December 8, 1976

Designation withdrawn: July 31, 2003
The Nashville Union Station and Trainshed were constructed in the 1890s as part of the Louisville and Nashville (L&N) Railroad's construction program to improve passenger facilities. As a major transfer station on the Louisville and Nashville and the Nashville, Chattanooga and St. Louis lines, the architecture and size of the train station and shed articulated the importance of Nashville to passenger transport to the West and Midwest. The station was designed by Richard Montfort, an engineer employed by the railroad. Montfort was trained at the Royal College of Science in Dublin, Ireland, and was influenced by the work of H.H. Richardson. The train station design is reminiscent of Richardson's Allegheny County Courthouse in Pittsburgh, Pennsylvania.
Spanning a length of 200 feet, the Nashville Trainshed was the longest of the trainsheds built by the L&N in the 1890s during their improvement phase. This made it the longest single-span, gable roof structure constructed in the Unites States, surpassing the St. Paul Union Depot trainshed by eleven feet. The Nashville trainshed epitomized the height of the gable roof type and its metal-framed construction made significant contributions to modern building practices.
The adjoining train station was constructed in the Romanesque Revival architectural style using Bowling Green gray stone and Tennessee marble. The illustrations that graced the interior walls of the train station depicted the agricultural, mechanical, and commercial pursuits of the State of Tennessee. On the south wall there was also an illustration of the "1900 Limited," a special passenger train that provided express service between St. Louis and Nashville.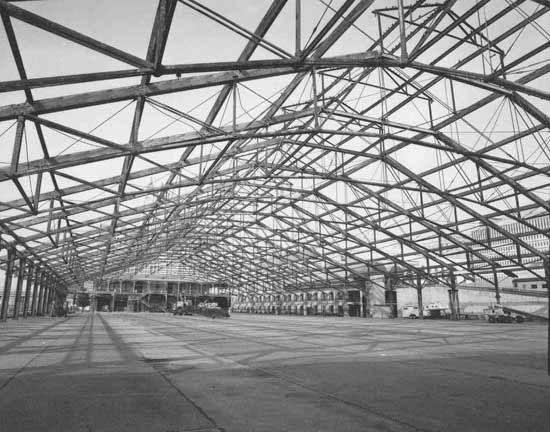 In 1975 the Nashville Union Station and Trainshed were designated a National Historic Landmark. The L&N Railroad transferred ownership of the train station to the General Services Administration (GSA) in 1979 and thereafter it was transferred to the Metropolitan Government of Nashville and Davidson County in 1985. The station was leased, rehabilitated and converted to a hotel. The easement, baggage building, and shed were transferred to CSX. Ownership of the trainshed and baggage building were then transferred to Gateway to Nashville, LLC. The baggage building was remodeled in the late 1990s and is currently used for office space and a restaurant.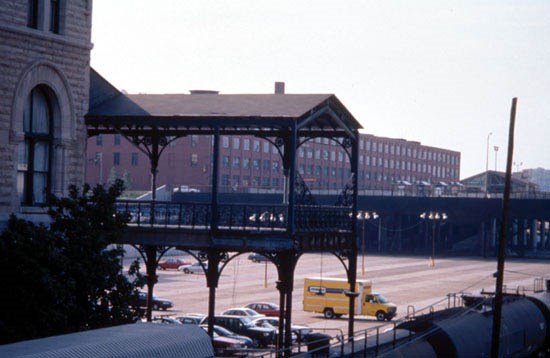 In 1996 a fire damaged the station hotel and an adjacent trainshed truss. Subsequently the owners of the trainshed removed its roof leaving the frame and trusses exposed to the elements. The area directly beneath the trainshed was thereafter used as a parking lot. In October 2000 the parking lot was closed after engineers concluded that the structure was unsafe due to years of deterioration. As a result, the trainshed was demolished between January and February 2001. National Historic Landmark designation for the Nashville Union Station and Trainshed was withdrawn on July 31, 2003. However, the station still remains on the National Register of Historic Places for its significance at the local level.
Last updated: November 3, 2022