Kate Chopin House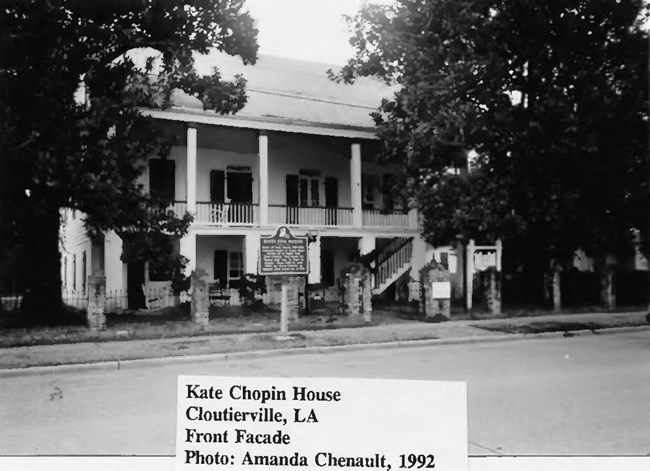 Cloutierville, Natchitoches Parish, Louisiana
Designated an NHL: April 9, 1993
Designation withdrawn: December 23, 2016

The Kate Chopin House, built in the early 1800s in Natchitoches Parish, Louisiana, was a residence of the famed author Kate O'Flaherty Chopin from 1880 to 1883. Chopin, the second child of an Irish immigrant and a French Creole descendent, was raised principally by her maternal great-grandmother after her father's sudden death. Her great-grandmother nurtured Chopin's habit of questioning societal values, a custom which would later become a major theme in her written work. Chopin attended school and lived in St. Louis until her marriage in 1870 to Oscar Chopin, a New Orleans cotton manufacturer. The new couple moved to New Orleans and lived there until Oscar's business failure forced them to move to a family-owned plantation in Cloutierville, Louisiana. Though Chopin only began writing in 1888, her experiences in Cloutierville profoundly influenced both the content and themes of her work. This is seen not only in the geographic settings of her short stories, but also her depictions of the worker culture of the Cane River. Chopin learned far more about the area than most women, benefitting from her tenure as the manager of the Chopin family plantation and from discussions with her brother-in-law, the district attorney for Natchitoches Parish.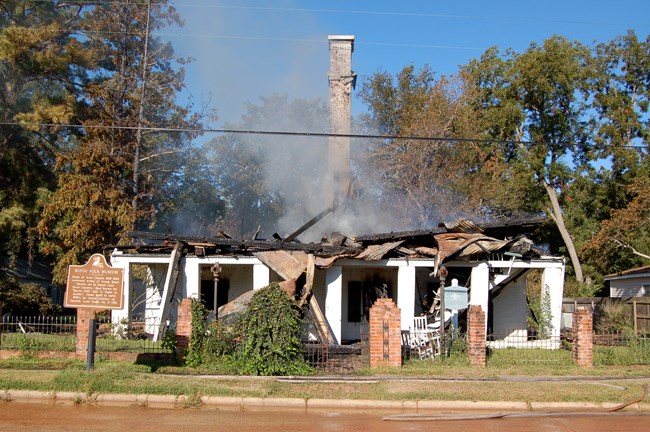 Chopin returned to St. Louis in 1883 after the death of her husband and began writing in 1888. She wrote and published hundreds of short stories, but is most well known for her novel The Awakening. Though it was met with intense literary criticism when first published in 1899, The Awakening surged in popularity among women during the 1970s for its portrayal of the tension between selfish devotion to family and the need for individual expression. The criticism she received when the novel was first published dampened Chopin's enthusiasm for writing. She published very few stories following The Awakening and died shortly thereafter in 1904 of a brain hemorrhage. She is buried in St. Louis' Calvary Cemetery.

The Kate Chopin House was designated a National Historic Landmark on April 9, 1993, for its association with defining influences on Chopin's literary work. In the early morning of October 1, 2008, a fire destroyed the Kate Chopin House. The building was burned to the ground and the chimney, the only surviving part of the building, was later bulldozed. The Landmark designation was withdrawn on December 23, 2016, and the property was also removed from the National Register of Historic Places.
Last updated: July 18, 2019