Dr. Olivia Chilcote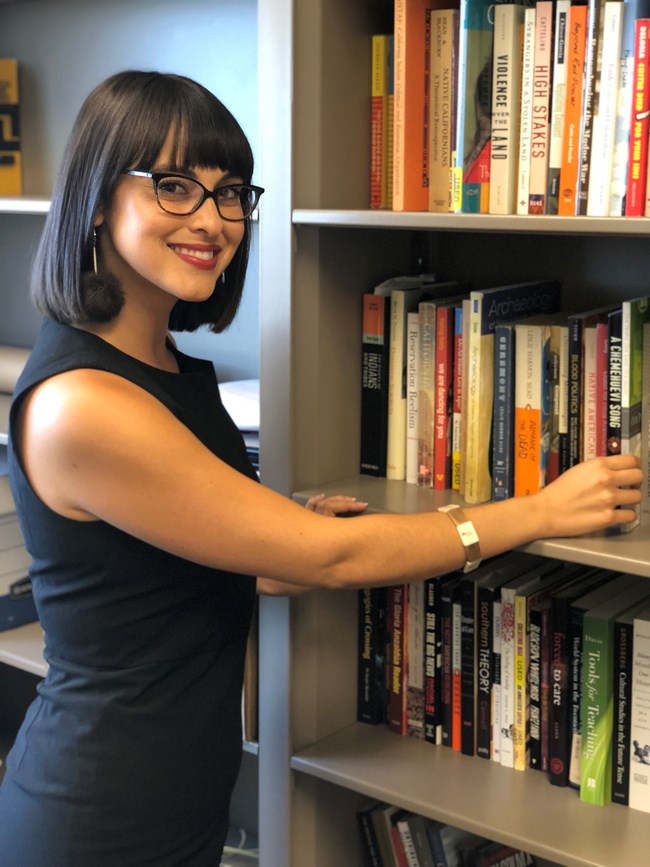 Chapter 8
Dr. Olivia Chilcote, Assistant Professor, Department of American Indian Studies, San Diego State University and member of San Luis Rey Band of Luiseño Mission Indians, discusses myths associated with the Lone Woman and other "last" Indians and "lone" survivors.

When I was twelve years old one of my aunts gifted me Scott O'Dell's Island of the Blue Dolphins and its sequel Zia. Even at that age, I could tell it was very meaningful for her to give me those books. She specifically waited until I was twelve because that is how old Karana is in Island of the Blue Dolphins.

We are Luiseño Indians from the coastal San Luis Rey Band, and at that time, there were few representations of Southern California Indians in popular culture or the media. I can imagine for my aunt, as a young girl in the 1960s and 70s, there were even fewer. And likely none who were women or girls other than Ramona, the fictional main character in Helen Hunt Jackson's novel by the same name. I know my aunt truly enjoyed reading O'Dell's novels because they provided her with a connection to Southern California Indian history, people, and identity through Karana's story.

Karana's story is part of the story of colonialism in California. The non-fictional woman, baptized as Juana María, is most often referred to as "The Lone Woman of San Nicolas Island." Her solitude and survival have been persistent curiosities since the nineteenth century. In this regard, she is not alone at all. California is well-known for its "last" and "lone" native peoples. The most famous is Ishi, the "last wild Indian."

Dozens of others were also photographed or documented as being perhaps the "last" of their tribe, the "last" of their race, or the "lone" survivor. To think of California Indians in that way perpetuated the idea that Native peoples were part of a "vanishing race" that was destined to disappear. In other words, their inevitable extinction was unfortunate, but necessary for non-Native settlement to flourish. Today, California Indians and tribal communities remain resilient, practicing their inherent right to self-government while working toward increased cultural, economic, and political strength.

Juana María's is one of only a few stories about California Indian women that has gained popularity. A captivation with how Juana María survived alone on the island for so many years plays into a fantasy about locating a "pure" or "authentic" connection to the past. Her story is also romanticized despite the violent colonial world by which she was both surrounded and influenced.

However it is interpreted, Juana María's story is remarkable for how it persists, circulating in newspapers in the mid-nineteenth to mid-twentieth centuries and in Scott O'Dell's novel in the twenty- and twenty-first centuries. She has always been an important figure in many Southern California Indians' minds, including those of young Luiseño women. We don't think of her as a "lone woman." She was isolated on San Nicolas Island for eighteen years, but prior to that she was part of a vibrant native community, culture, and governing system. Her connection and memory meant she was never truly alone.
Listen to chapter 8 entry

Dr. Olivia Chilcote discusses Island of the Blue Dolphins.
Last updated: October 6, 2020